To keep wasps away for good, here are things to do:
1. Set Wasp traps
Setting traps for wasps is one quick way to eliminate them.
It prevents them from attacking you and can also be beneficial in case of relocation.
When you bait these insects, you can kill them as fast as possible, getting them out of the picture. You can get a solar-powered wasp trap from Thanoshome.
Thanos®  Solar-powered Wasp Trap will help you to get rid of wasps, hornets and yellow jackets.
It is Solar-powered and charging automatically in the day time.
2. Keep your home less attractive to them
The more appealing your home is to wasps, the more they will flock to it.
One of the best ways to remove them is to keep your home less
attractive for them to build a nest. Wasps are attracted to sweet
things, so ensure that your garbage cans are closed at all times and
waste is disposed of properly.
You also need to drastically reduce the insect population as wasps need them to raise their young ones.
Avoid cultivating plants with bright flowers in your garden or plant
pest-repellent plants alongside, as they are attracted to bright colors.
Turn off the light at night or install dimmed ones so that you do not attract insects that will, in turn, attract wasps.
Seal entrance gaps that may serve as access for them into your home.
Remove any abandoned and inactive nest with holes to prevent takeovers from solitary wasps.
2. Build a fake wasp nest
Building a fake wasp nest is an efficient wasp control method as it repels wasps.
Wasps do not takeover an active wasp nest as they are extremely territorial, so you can build a fake nest to deceive them and discourage them from nesting.
You can create a paper-like wasp nest and coat it with dead insects to ward off wasps looking for an empty wasp nest.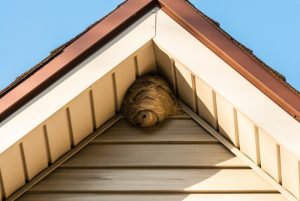 3. Keep insect predators
Some insect predators like Starlings and Orioles feed on wasps, and keeping them on your property will help in wasp control.
Attract these predators with bird feeders or birdbaths, so they stop by the wasp nest on your property to eat their food source.
However, ensure that you look out for other bird pests that may attract other predators or, worse, destroy your garden or become pests themselves.