Description
Introducing one of the advanced sonic animal repellers on the market today.
Unlike the other solar-powered animal repeller on the market only has one side to repel the animals, this Motion Activated Ultrasonic Animal Repeller has THREE independent 'faces' that work together in unison.
Each individual face emits ultrasonic repeller waves, flashing LEDs, and an alarm.
All THREE faces working together provide true 360-degree coverage.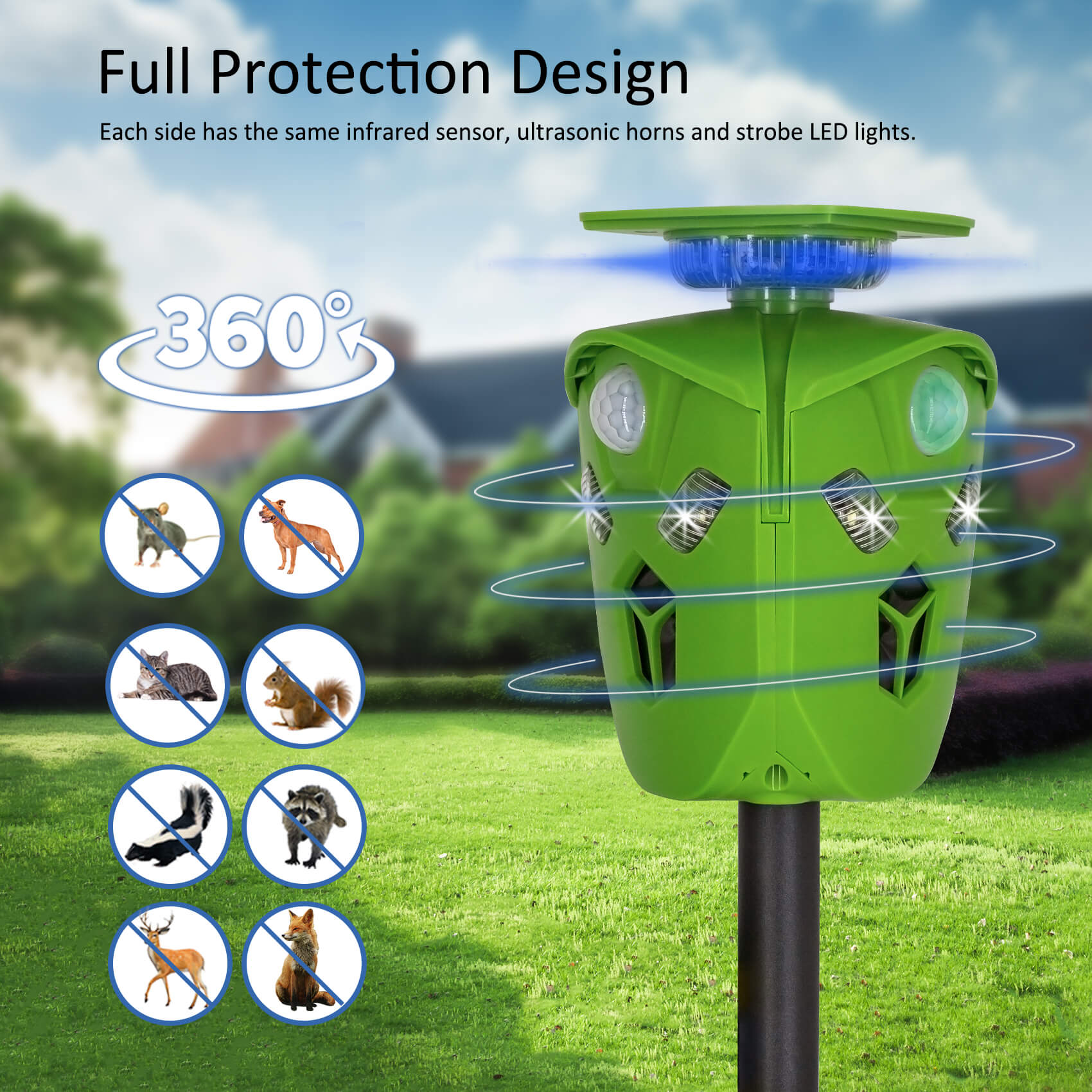 Cutting Edge Technology
Each face of the device includes a passive infrared sensor, two flashing LED lights, and an ultrasonic speaker.
PIR sensors with high accuracy and a range of up to 10 meters
The ultrasonic speaker emits 15-50 kHz waves to repel animals
Two modes of operation: Silent and Sound (default)
Solar-powered and self-sufficient with optional USB
Offers 360-degree protection with 3 PIR sensors on three sides
The device goes into standby if no animals are nearby
Waterproof: IP44 certified and suitable for outdoor use
Compact Size: The head measures 11.5cm in width and 14.8cm in height, and the provided optional pole is 35cm long.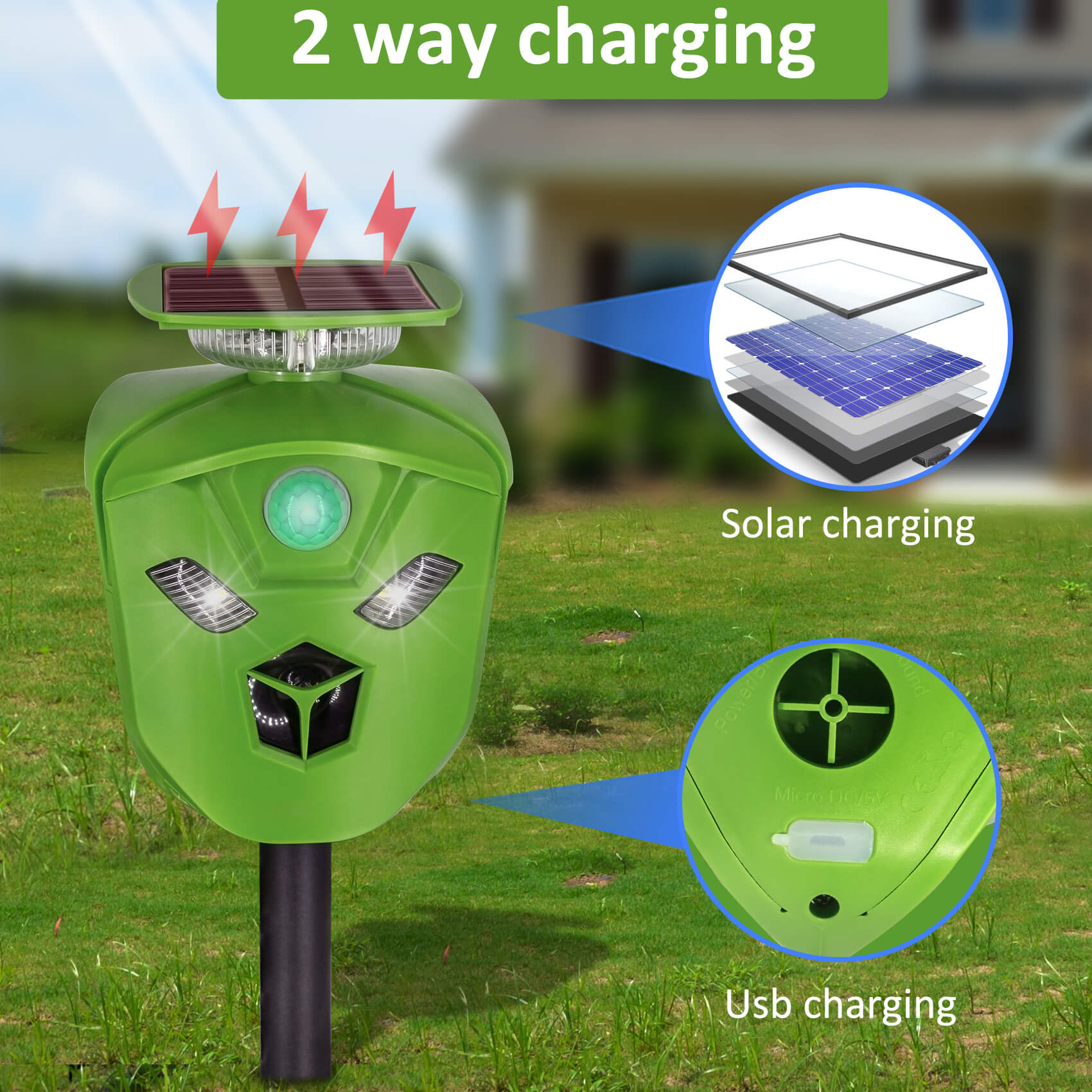 Safe and Multi-Functional Deterrent
There are no concerns about safety with this Motion Activated Ultrasonic Animal Repeller.
It's safe for your family and friends.
It's also safe and not physically or permanently harmful for animals or birds either.
The ultrasonic waves and flashing LEDs deliver disruptive audio frequencies and visual patterns that drive animals away without permanent injury or distress.
It comes with two operating modes, Silent and Sound: 
Silent Mode: the device uses flashing LEDs and Ultrasonic sound waves. This mode is best when you want to repel small animals only.
Sound Mode: the device uses the same combination from silent mode and adds an alarm sound to the mix. This mode is best when you want to repel big animals.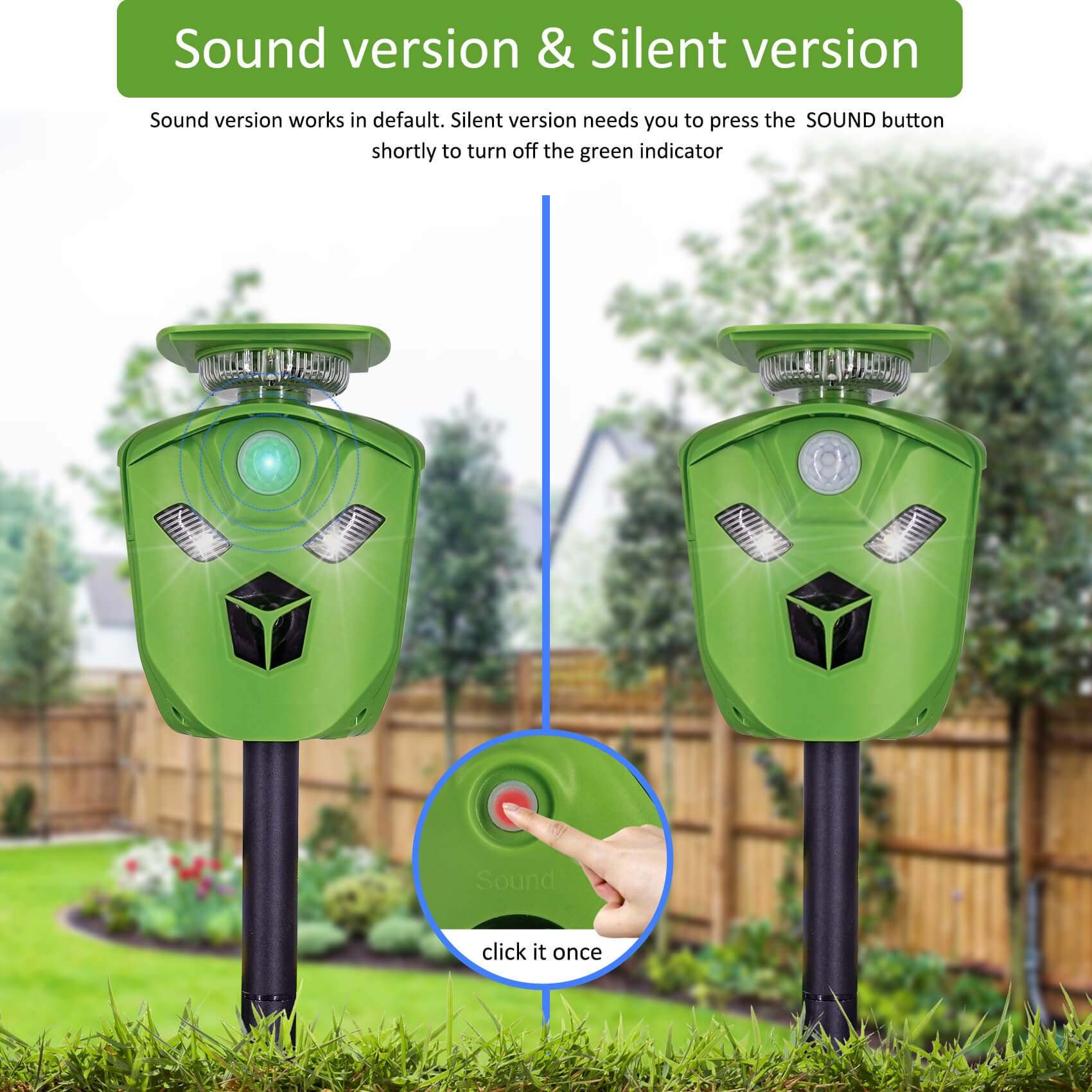 Easy Installation
Setting up is nice and easy.
Simply choose the area you want to protect, then decide how to mount the device.
You can do this in several ways:
Directly in the earth using the mounting pole.
Wall-mounted.
Or placed directly on a flat surface.
Whichever method you choose, it's best to mount the device with a minimum of 20cm of ground clearance and avoid blocking the device's PIR sensors.
Once you've decided on placement, you need to charge the device's batteries.
Do this by either leaving it out in the sun or plugging it into a charger using the provided USB cable.
A two-second press on the power button will turn the unit on. This button also controls the LED light, so you can choose to turn it off should you want to.
Along with the power button, you'll also find the alarm button on the bottom of the device. This button controls the alarm sound and lets you choose between the silent and sound mode.