Description
Are you hearing scampering noises from your attic?
Noticing scratching and gnawing sounds around your home?
Introducing the 4-in-1 Ultrasonic Squirrel and Rodent Repeller.
This next-generation rodent repeller technology uses both light and sound across a unique three-face design.
Providing true 360-degree protection from all rodents, not just squirrels.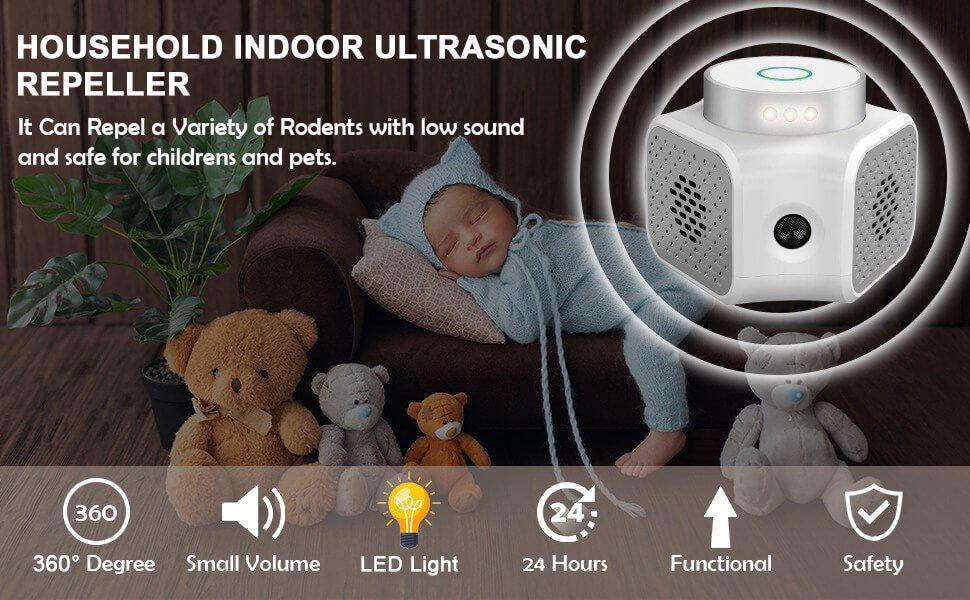 Clever Design
Our powerful and technically advanced indoor Rodent Repeller uses six ultrasonic speakers, along with 9 LED strobe lights, to deliver results you can rely on.
The speakers produce ultrasonic frequencies ranging from 22kHz to 35 kHz
Sound pressure levels ranging from 100dB to 125dB
A combination of six speakers and nine lights to provide 360-degree coverage
Plugs into a wall socket and offers four modes of operation to choose from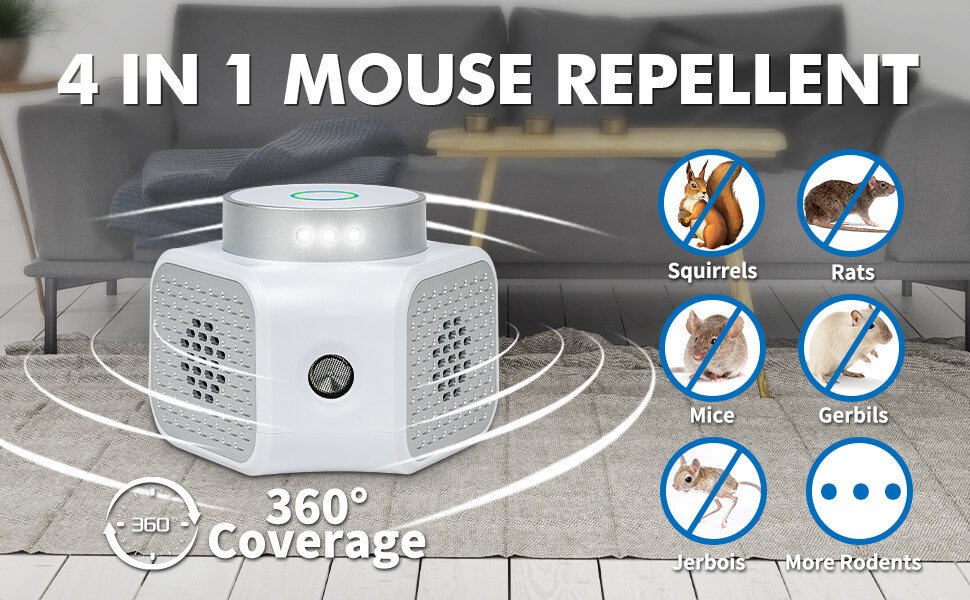 Perfectly Safe
The 4-in-1 Ultrasonic Squirrel Repeller won't kill the little critters – it only scares them away. No messy cleanups required here.
Most importantly, it's harmless to humans. The frequency ranges involved with the 6 speaker technology are in the register above that of an average human's ear. You won't even notice it's even there.
So you can rest easy knowing your whole family is protected, without the risk of harm.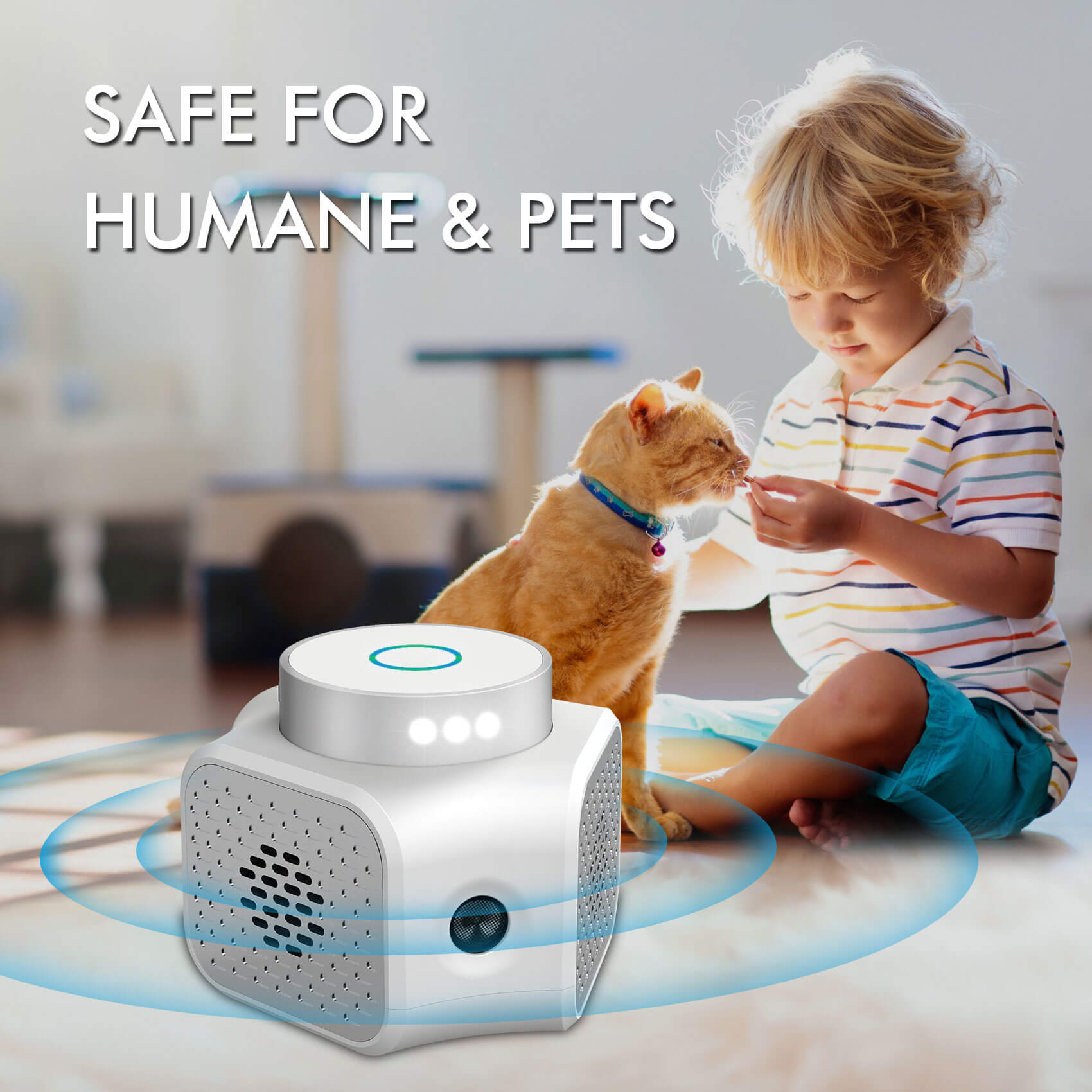 How it Works
With the device plugged in, simply power it on, and use the function switch to select one of the four operation modes:
TEST: The device simulates sounds audible by rodents to test the device's functions
ULTRA: Emits frequencies between 22kHz and 35kHz, with a blue indicator light
TRANS: Emits an ultra-solid frequency 25kHz wave, with a green indicator light
DUO: A combination of both sound waves, indicated by blue and green lights
The nine strobe lights are off by default. You turn them on via the LED switch on the back of the device. When turned on, the strobe lights will only work at night, saving energy.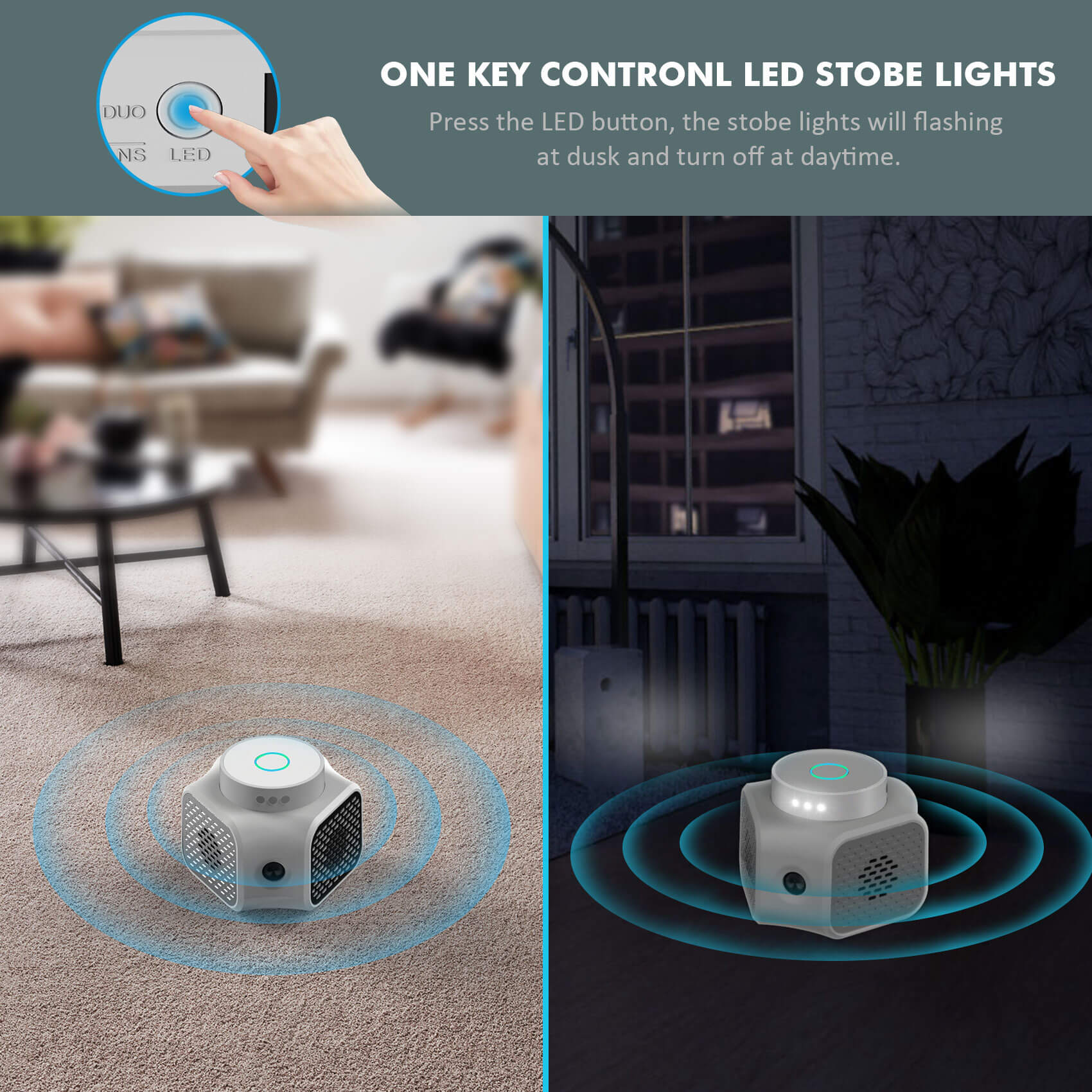 Installation
Although rodents are experts at climbing and squeezing their way around spaces, they spend most of their time at ground level.
We recommend placing the 4-in-1 Ultrasonic Squirrel Repeller directly on the floor, or raised by a maximum of a few inches, wherever you want to get rid of rodents.
Ensure to minimize obstructions within a good 3ft radius of the device to maximize its effectiveness. For best results, make sure to use the repeller year-round.
The 4-in-1 Ultrasonic Squirrel Repeller is strictly an indoor device; it's not waterproof or suitable for use outdoors.
Now it's all set up. You can relax back and let the device go to work.