Getting rid of pigeons is not an easy task.
These birds are survivors, having lived close to humans for a very long time. These pest control methods are relatively inexpensive and are things you can do yourself.
If you want to know how to get rid of pigeons humanely, you can do one or more of the following.
1 Use Mothballs
Using mothballs is a good way to keep pigeons out of the house.
It is cheap and very effective. Mothballs release chemicals to any area of the house. Place the mothballs in any area these birds roost on, and it will scare them away from your home immediately.
2 Use a string
You can use a string as an anti-roosting measure to chase away pigeons from your home.
 You can purchase it and tie the string in places where these birds usually perch. The string stops them from perching, roosting, or nesting on your property.
The string can be placed anywhere in the house, including the roof, balcony, even gutters. No bird will be able to roost wherever you tie the string.
Some strings are resistant to weather, which means that it will last for a long time, and you can rely on them to deter pigeons.
3 Install anti-roosting spike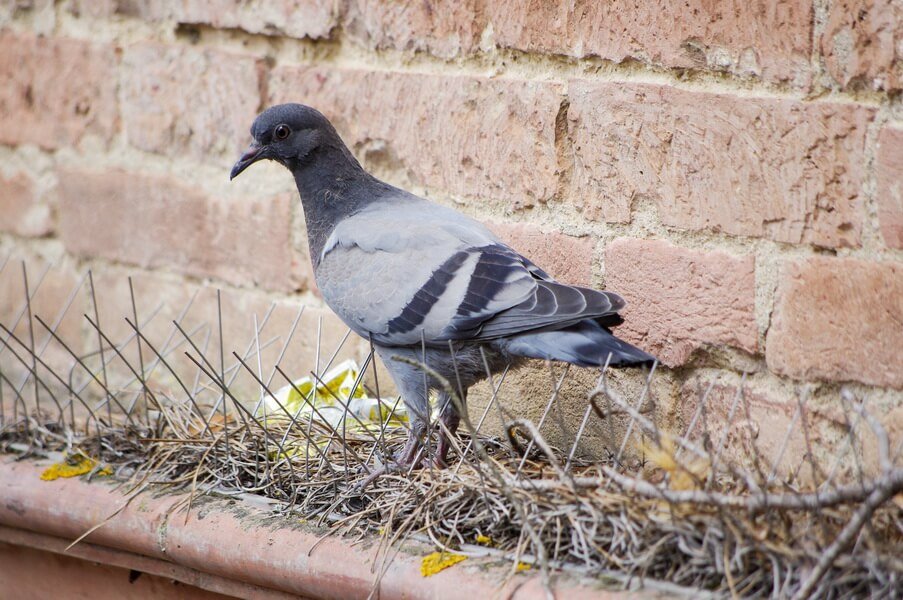 You can purchase spiked strips from any hardware store close to you and install them on the area of your house affected by the birds.
These spikes don't harm the bird, but they make it difficult for it to land. It also prevents them from roosting or making a nest.
This is one of the most effective pigeon control methods you can use to discourage pigeons from roosting in your house.
4 Replace your sheathing
Another natural, effective home remedy is to replace the sheathing in your house.
You may purchase a sheathing with a slant that prevents the bird from balancing when it tries to perch. Without being able to perch, the pigeon won't be able to roost on your home.
You can put this sheath anywhere on your house, including your balcony, roof, window sills. It is very to install and also relatively cheap.
5 Install a sprinkler
Installing a sprinkler in your garden or yard is an effective way of getting rid of pigeons from your garden.
You may purchase a motion-activated sprinkler that will spray bursts of water at the birds and discourage the pigeons from coming to your house.
It is a cheap and effective home remedy to get rid of pigeons.
6 Use Bird shock tape
An efficient pigeon removal method is to deliver a shock to make the birds fly off.
An easy and relatively inexpensive way to do this is to use bird shock tape. A bird shock tape is an effective way to get rid of pigeons from your property. This pigeon removal method is easy to purchase and use.
You can charge this device and tape it to the surface of the area where these birds roost.
The transparent color makes it hard for the birds to spot. When they land on the tape, it will send electric bursts to their legs, making it impossible for them to perch.
When they repeatedly land on the house and keep getting shocked by the tape, they will eventually stop coming to your house.
7 Eliminate food sources
This is one of the major reasons why pigeons are attracted to homes.
The presence of in the trash, fruits in your garden, feed inside bird feeders, or foods you leave for your pets is enough to encourage these birds to invade your house.
Even if you scare the birds away from your home, these birds will always return if they know there is something for them to eat.
How do you prevent this?
By eliminating these food sources, you will be taking a giant step in getting rid of pigeons.
 Clean out the trash regularly, don't leave pet food out, prune your garden. Reduce every chance of these creatures invading your property.
8 Seal all the entry points
Even if you get rid of pigeons from your house, it won't mean much if you don't prevent them from coming back. These birds always come back to a place they find comfortable, and if you chase them out, you have to make sure they can't get back in next time.
You need to make sure you seal all the entry points to your homes. You may use silicone caulk for small areas. For bigger areas, you may use hardware cloth to seal these openings.
The best way to get rid of pigeons is not to let them get into your house in the first place. If they are already in the house and you want to get rid of pigeons permanently, you need to ensure your house becomes inhabitable for them.
9 Remove the birdbath
If you have a fancy birdbath in your garden, you may want to get rid of it. The water in these baths is attractive to pigeons. The water in there is a way for them to cool off.
You may have birds in the house using the bath; in that case, you may be unable to get rid of the bath. You can drain the water there regularly to prevent it from becoming contaminated by pigeon droppings.
10 Clean out evidence of pigeons from your home
Removing their nesting materials is another way to discourage the birds from coming to your house. Cleaning out their droppings is also important because pigeon poop is harmful to your property.
Why should you clean out all evidence of these birds?
Apart from removing the mess, they have made the nests' presence and droppings a signal to other birds that your house is a safe landing spot.
You can prevent that from happening by cleaning your house.
11 Pigeon Trap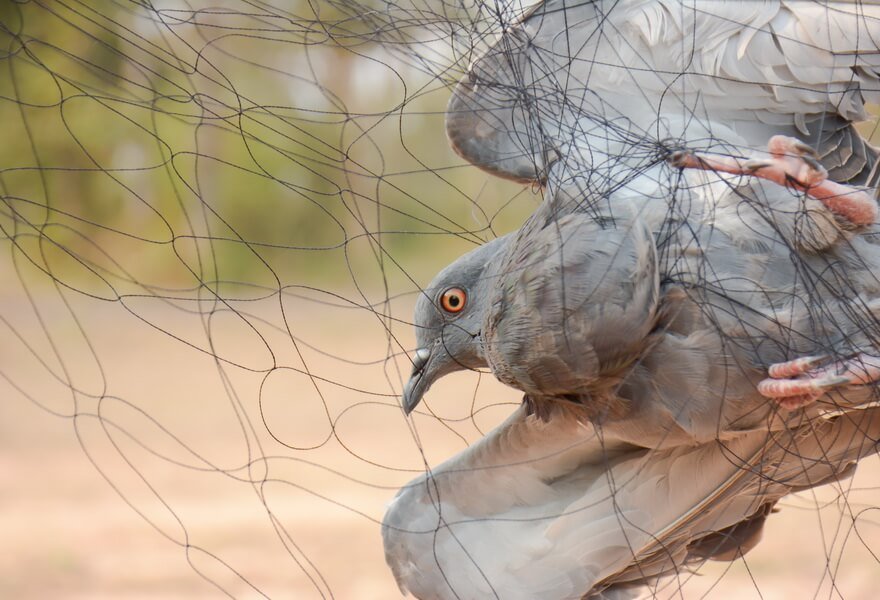 Using a trap to catch these birds is one of the best ways to eliminate these birds from your property.
Using this trap is that pigeons always know how to find their way back to a place they are used to.
To solve this problem, you can keep them in the trap for a week while feeding them.
This will attract even more pigeons to the trap. When you want to release them, you need to take the trap far from the house before opening it. It will be hard for them to find their way back to your house.