This is a substance that foxes would instead not come close. Having this in mind, you can add some white vinegar into several bowls or jars and place them on the ground, especially in areas where the foxes are likely to visit.
You can place some in the poultry and the shed, while others can be placed around your home to deter them.
If a fox makes its way into any one of these areas, they wouldn't be able to stay for long, and they will leave.
Another effective method of keeping foxes out is to install a wired fence or electric fence around your property. This will keep foxes at bay and cause them to lose interest in re-visiting.
Foxes can only make their way into your compound if they have access. And since they are not skilled climbers, getting through the wired fence would be impossible.
The fence should be installed around the major areas where the foxes will target. Make sure the fence covers every inch of access and regularly check for breaches.
Once your chickens, piglets, and lambs are behind the fence, there is no way the foxes can reach them. After a fruitless attempt at getting your livestock, the foxes will leave and try their luck somewhere else.
Among the things, scavengers hate the most is loud unexpected noises. When they hear such, their first impulse would be to flee. This is why a motion-activated alarm is perfect.
This type of alarm is triggered when the sensors pick up movements. The intruder must be within the sensor range for it to work, so it would be wise to install it close to where the foxes may visit.
If a fox makes its way onto your property in search of food, and it gets close to the alarm, then it would be triggered.
The loud alarm noise will scare them off. It will also let you know that there is an intruder around.
4. Remove Animal Feces
Another element that can attract foxes to your yard is animal droppings. They have a sharp sense of smell and can pick up the scent from quite a distance.
Perceiving droppings is a clear sign that there is food close-by. For this reason, you must get rid of the evidence.
One of the best ways to do this is to hose down the feces regularly. Do this every day, if possible. You can also add citronella to the ground as a special ingredient, as it has the power to hide the smell of the droppings.
I have to warn you because citronella is unsafe for domestic pets such as dogs or cats. They will be poisoned if they accidentally ingest it and may die.
5. Using A Live Cage Trap
Using an animal trap is another way to control a fox. Set it in your compound to catch them.
It would help if you were sure the live trap does not harm or kill the fox in the process. The trap only needs to restrain it.
A spring trap that is large enough for a fox would be ideal. You will also need some bait to draw the fox in.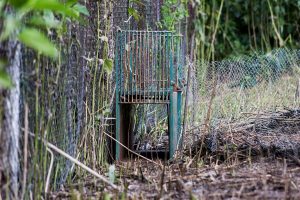 For bait, you can try using some leftover chicken wings or steak. A fox has a sharp sense of smell will lead them right to the cage and trap them as they step in to get the food. Check on the trap the next day to see if you've made a catch.
You have to be patient after you set the trap, though. It may take some time to make a catch.
After the fox is caught, you should call wildlife control so they can come and take it. Set the trap again, just in case there's another fox lurking.
6. Remove All Attractions
There are so many things that attract foxes to your yard or garden, and most of them fall under the bracket of feeding. And while you cannot remove your poultry, there are other food sources you can eliminate.
One of them is pet food left outside. If you live in an area with a high occurrence of fox intrusion, it would be best to feed your pets indoors. If you must feed your pets outside your house, ensure the area they eat is kept clean after each meal.
If there are traces of pet food around your site, the foxes will pick up the scent and come visiting even in the smallest amount.
Garbage bins are also a source of food for foxes. If it is filled with leftovers, a fox can explore the contents to see what they can find. It would be worse if the bin overflows, and there are food chunks scattered all over the floor.
Always keep your bin tightly sealed and make sure there are no spillovers on the floor. Also, lock your barn doors to prevent them from turning it into a fox den.
7. Maintain Tidy Premises
Another step you can take to get rid of foxes is to keep your environment tidy every day.
A fox is usually attracted to rodents and other creeping, small-sized mammals if they are around your premises. And such small animals like to sneak and hide inside piles of junk.
For this reason, you should practice regular cleaning exercises and maintain a junk-free environment.
Empty your garbage bin, remove all piles of dead wood, rotten tree stumps, heaps of paper etc., no matter how small the piles are. It would help if you also trimmed overgrown shrubs in your yard, as they can provide cover for these animals.
The trick here is simple – get rid of hiding places to get rid of small animals, which will, in turn, help get rid of the fox!
8. Male Human Or Dog Urine
For some strange reason, the urine of a human male is effective in getting rid of foxes. As silly as this may sound, many individuals and related articles have confirmed that it works!
It is also an efficient concept. A fox belongs to the canine family, and just like dogs, they sniff around the site before they pee. If there is pee on the ground already, they will seek other areas to ease off, as they would assume that the territory has already been claimed.
All you need to do is go around your garden soil and spread the pee.
It won't cost a dime to pee, so why not give it a try? Many people may find this absurd, but it's a great tip!
If you have a male dog, then an extra tip would be to get him to pee across the garden and any other site the foxes may visit. Urban foxes are already used to humans and would consider the smell of a male dog's urine to be more of a threat than a male human.
This should keep foxes away.
9. Garlic
Foxes are irritated by some scents, one of which is garlic. The properties contained within garlic are excellent repellents to foxes, and they will stay far from areas that are clogged in the smell.
DIY garlic repellents are easy to make. Just get some garlic cloves and grind them to a fine form. Mix it with some water and pour in a spray bottle, then apply the mixture in areas where the foxes usually visit.
You can also dig up small sections of the topsoil and pour the garlic mixture into it.
Garlic is safe and won't harm your garden plants. There are also other commercially sold garlic repellents.
10. Call A Wildlife Expert
If you have no interest in controlling a fox intrusion in your home, you can go the more practical route and contact a wildlife expert.
They are trained professionals who have a better understanding of these creatures, and they can help you control foxes in your place.
This is not to say DIY control methods won't work; it merely means that more skilled persons can get the job done more effectively. Realistically, this is the best way to control foxes.
You can find a wildlife expert in your area by searching through the internet.