Like many insects, a bee has a head with a proboscis for sucking, a thorax with wings and limbs, and an abdomen divided into nine segments.
A part of the appendages is modified into stingers, which they use to attack people or other oppressors.
A stinger is a modified ovipositor, where the bee's eggs are stored. The stinger has a poison sac that contains the venom of the bee. The female bees possess the ovipositors, so male bees do not sting. There are stingless bees, which are both male and female bees without stingers.
There are two classes of bees;
The social ones who live in colonies, e.g., bumblebees, honey bees, and the solitary ones, e.g., carpenter bees, ground bees.
The bees who live in colonies have a caste system comprising the queen, male bees that mate with the queen known as the drones, and the worker bees, all females.
The queen is responsible for reproduction by mating with the male bees. The female bees do everything, including gathering food, pollinating plants, setting up the nest, cleaning the hive, etc.
Bees feed on pollens and nectars of flowers in a symbiotic relationship as they pollinate the plants in the process of moving from one plant to another.
There are over 20 000 bee species globally, and they form a large population of insects.
Here are four different types of bees:
1. Bumble Bees
Bumblebees are social types of bees with black and yellow stripes.
They sometimes nest in the ground but usually live together in a hive, found in attics or under roof beams. They feed on pollen and nectars and help in the cross-pollination of plants.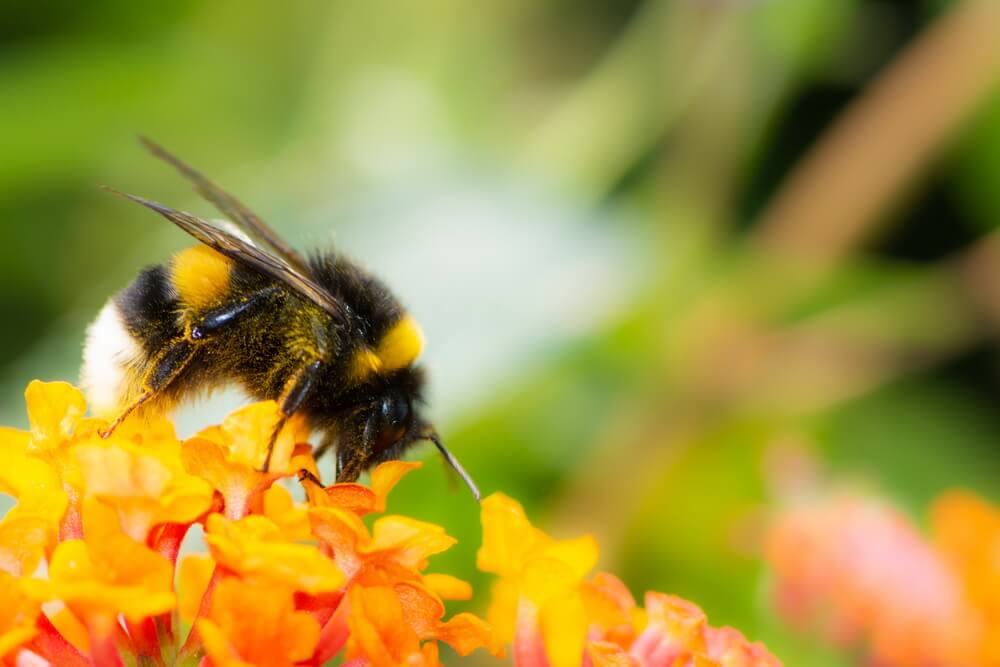 Bumblebees make loud, buzzing noises to defend their homes aggressively. They sting invaders as many times as they can and pursue them for long distances. The sting of a bumblebee is painful and may cause swelling and irritation in people allergic to insects' stings.
2. Honey Bees
These social types of bees are golden yellow with brown bands and are found in many places around the world.
They are of economic importance as they are primarily involved in the pollination of many plants and in the production of Honey, which is of health importance.
Honey serves as food for bees, other insects, and humans. Honey from the bee is highly nutritious and has many medicinal benefits. In ancient times till date, this is what makes Honey bees very relevant to humans.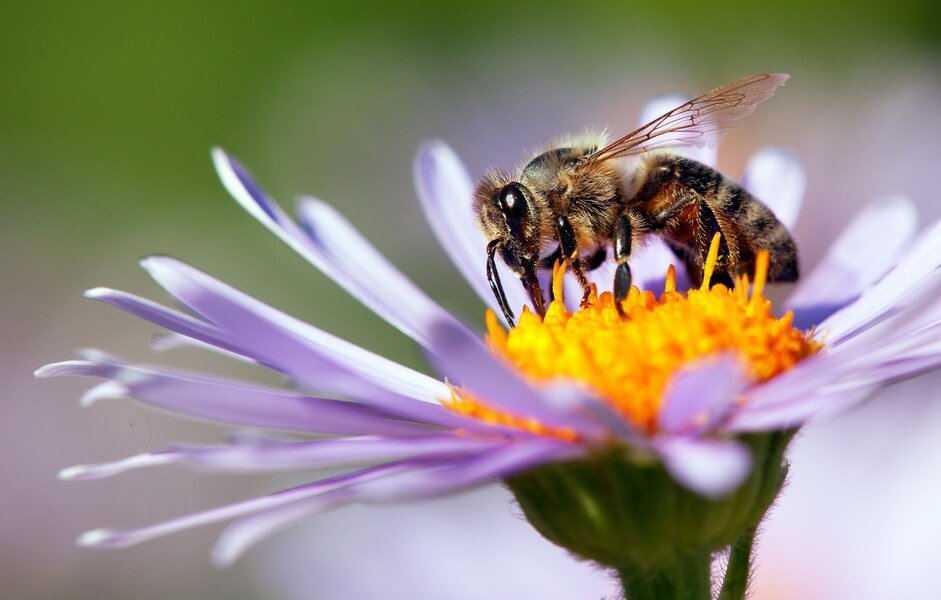 The bee colony of these insects can survive for a long time, as they eat their Honey with their young ones during harsh weather conditions like winter.
Honey bees live in nests of varying sizes built-in chimneys, tree crevices and attics. The buzzing sound they make is from the "11 000" times per minute flapping their wings.
They only sting once as their stingers have barbs, which attaches to the flesh of their prey.
The honey bee dies due to the abdomen ripping out when it moves away after the attachment has occurred. The sting of a honey bee is painful and may cause a severe reaction in people allergic to insects' stings.
3. Carpenter Bees
These blue-black species of bees are solitary; that is, they do not live in colonies.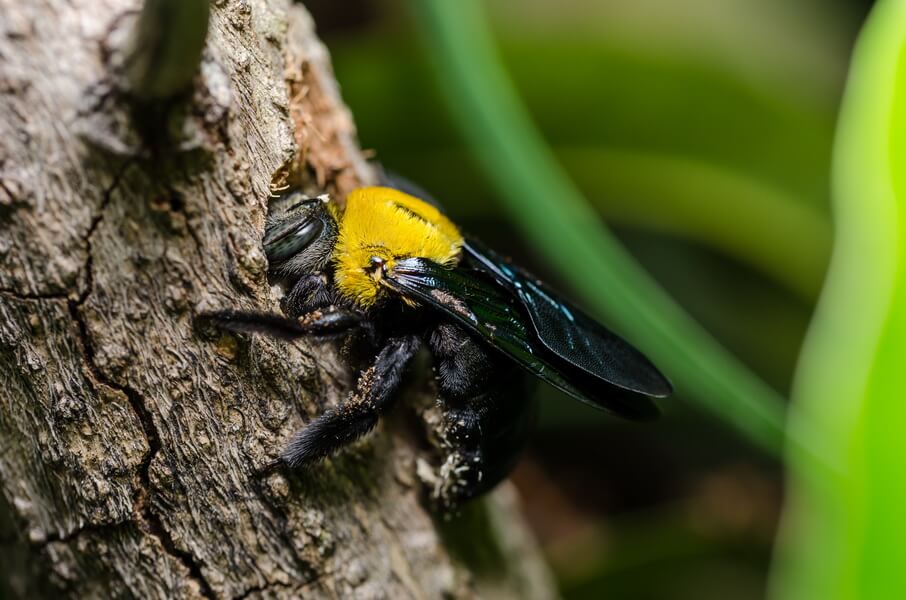 They are named after their ability to drill through woods like "carpenter." They each build a nest by chewing a tunnel through a wood, where they lay eggs and raise and protect their young ones.
The tunnels have different rooms where they store food and lay eggs. It is not unusual to find several female carpenter bees live together in a single wood. Each female carpenter bee, however, has her marked rooms for her food and larvae.
Their food consists of nectars and pollens from flowers, which they also feed to their larvae.
The carpenter bees usually pollinate the plants ignored by the Honey bees. A carpenter bee marks her territory as she chews and deposits bits of wood known as "frass" at the tunnels' entrance.
They sting as many times as they can only in defense. They do not pose a public health threat; however, it can be destructive when it comes to woods.
4. Ground Bees
Ground bees are dark-colored with dull yellow or light brown stripes and are solitary, non-aggressive, and beneficial.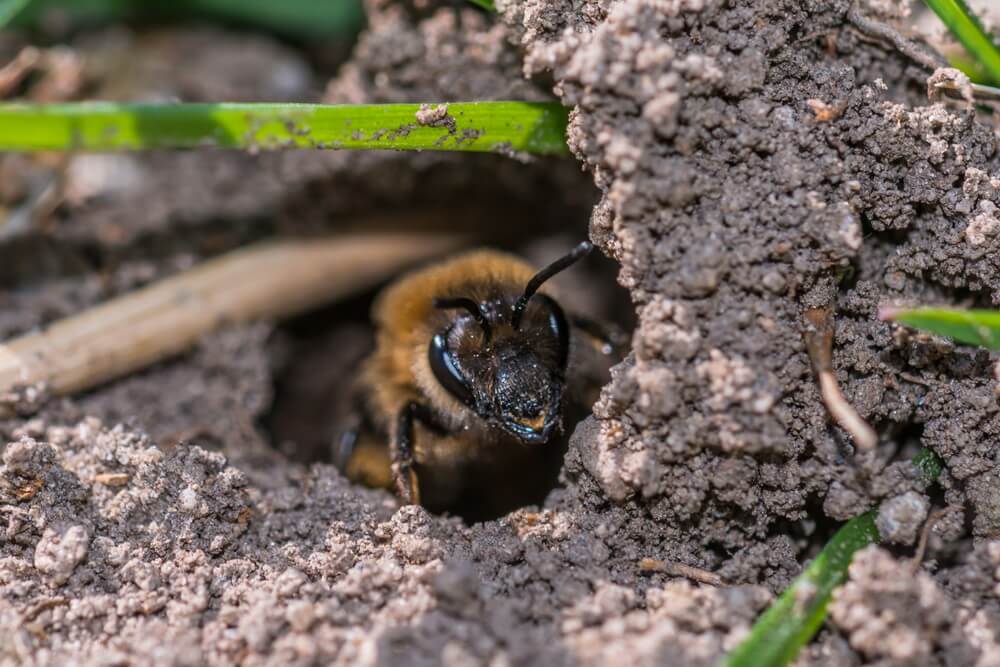 They make burrows in dried, loose soil in the ground where they nest, store their food and raise and protect their larvae. Although they are solitary, multiple female ground bees can aggregate in suitable areas to burrow and create a nest.
Ground bees rarely attack as they are non-aggressive. The females only attack when they are threatened or have to protect their larvae.
The males are in charge of defending the burrow's entrance from disturbance; however, they lack stingers; hence, they are harmless. The sting from a ground bee may be painful with a severe reaction for those allergic to bees' stings.